Melancholy Promotion started back to 1992 as a small distribution service with
demos and Eps. A little after we decided to release some series of tapes, starting

TAPES
with the NERGAL "Ijus Morker" promo tape in 1994.
Nergal a little later signed to Unisound for their full album.

Our second release was WINTERGODS "Seven Xul Curses" demo, keyboard music that
gained very good reviews. Wintergods is about to release a split CD now.
Next, two promising bands joined Melancholy Promotion for their promos:

DEMOGORGON "Lycaon Pictus"
A one man band, member of Legion of Doom, evil cold black metal, and

NAR MATARON "Tales Of The Twelve Gods".
Nar Mataron released a CD in Black Lotus some time later (with different
line-up and changed their name to Naer because of members fight!) and
Demogorgon signed for an 7'' on Melancholy Promotion.

VORPHALACK "Black Sorrow For A Dead Brother" demo '95 was our last tape release.

Tapes are no more for sale anyone interested can send a blank tape + $2



VINYL
Click on covers for more info



In middle 1996 we released the DEMOGORGON "The Horned Moon" 7''.
Our first vinyl release which was our dream. Great black metal and quality lay out.
It was pressed in 500 copies and sold till now about 420 copies.
Demogorgon is a one man band project of Demogorgon from Legion Of Doom.
Currently he works for the full album, total atmospheric satanic art.
The price for this is 4$.




After that we got in contact with Zephyrous for a split LP with Vorphalack who had
already recorded new stuff. Both liked the idea and
ZEPHYROUS/VORPHALACK splitLP saw the light.
This release gained the best reactions and promoted both bands helping them to sing
in biggest labels. Zephyrous has already recorded their full and its already out,
although its something diferent from black metal and this split LP but really weird.
A cult vinyl release pressed to 300 numbered copies, it is sold out now.
Vinyl releases continued with our newest stuff:


WAMPYRINACHT "The Cloven Hoof" mLP
a band that gained our attention with their originality.
They had recorded a promo tape with the help of M.W.Daoloth on the mix
which sold more from all the Greek demos and had very promising reactions.
The band is connected with the Satanic Lavey ideology. They practice now their
new songs and got some interest from labels for future works.
The mLP contains lyrics, photos and a great inlay. Sold till now 320 copies.
The price is 11$.



VORPHALACK "In Memory" mLP.
A total holocaust masterpeice!!!!
The Vorphalack songs are a mixture of Acheron and Impaled Nazarene.
Vorphalack maybe the only band among the other wellknown bands from
Greece which continues with power and giving a total diferent face
in the Greek scene, they are out from 1992.
They just finaly signed for their full Lp on another Greek label.
Both mLPs are limited to 500 numbered copies with perfect lay out.
The price is 11$.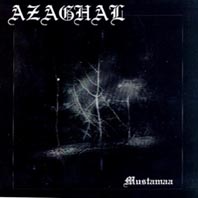 AZAGHAL "Mustamaa" LP limited to 300 copies.
Finally avaliable with the best lay out ever including poster, inlay,
lyrics, photos and great cover.It gained the best reactions from all the underground.
Azaghal comes from Finland and managed in a short period to be established in the whole scene.
They already signed for the next 2 albums from brazilian Evil Horde rec. and they also
prepare a new 7'' (maybe a split one). Remember that band.
SOLD OUT!!!